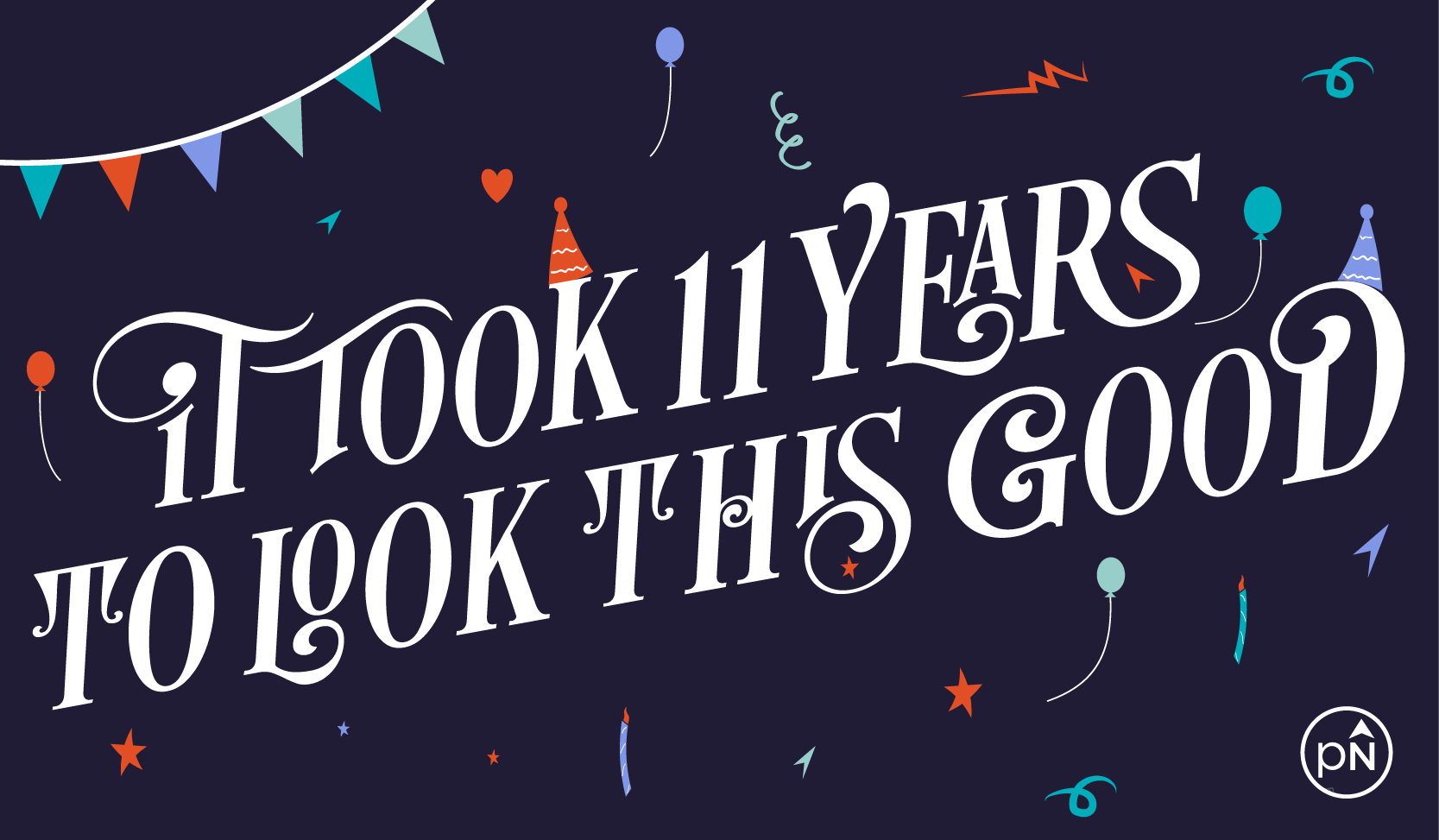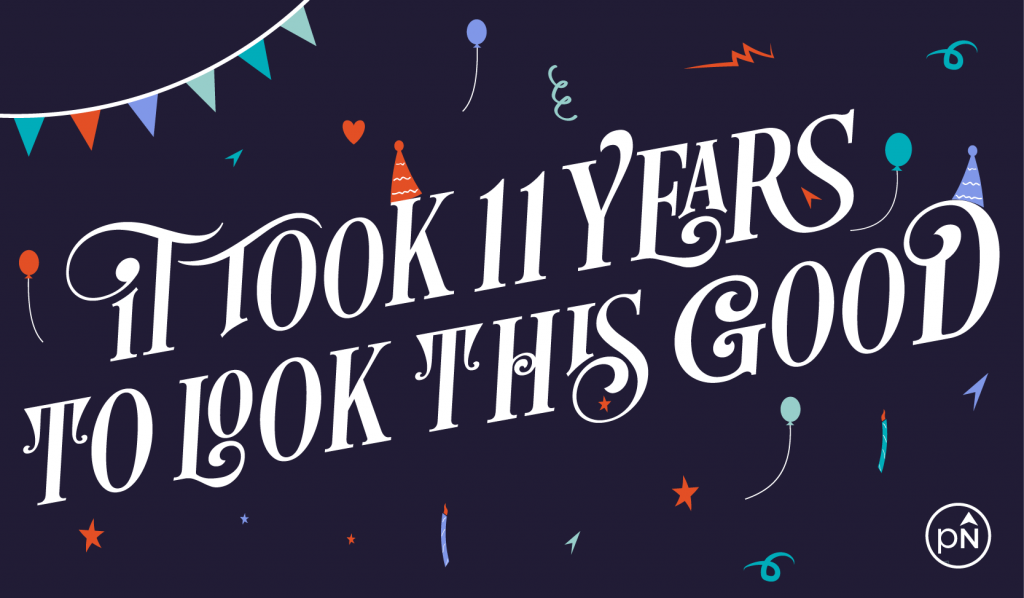 Owning a business is a journey. Many of our lessons come from the school of hard knocks, but our successes come from there too. On this day of April 1, 2021, we are proud to announce and celebrate our 11 year anniversary as a thriving creative studio in Baltimore MD. Some days it feels like we are just beginning, and other days it feels like it's been way more than 11 years. Until we can celebrate safely in person, we hope you'll raise a glass and toast to a small business that is making big things happen in Baltimore and beyond.
Also, to mark the occasion, we have a list of 11 noteworthy highlights from our 11 years in business. Take a trip down memory lane with us.
1. Baltimore Magazine feature for Womxn in Tech
Our CEO Jessica Watson and Shervonne Cherry (Community Manager, Spark Baltimore) have partnered up to manage Baltimore Womxn in Tech (BWiT), a group that grew out of a need to create a space for womxn in the profession that fostered growth, mentorship, and community. In the January 2020 issue, Baltimore Magazine sits down with both of them to talk about how they got started, and their vision for the future. Read more on this story.
2. Shine Your Light Baltimore started as a message on a shirt, and became street art
A couple of years ago, we told the story of the origin of Shine Your Light Baltimore, a project we collaborated on with Baltimore photographer John Waire, from TheWairehouse. We've continued down the path of selling tshirts with the message Shine Your Light Baltimore (with proceeds going to local charities). At local events, we started doing sticker decals that you can place on your laptop or might find displayed at your neighborhood cafe/bar. It's a positive message, it's telling Baltimore to shine anyway, despite what others might see or say about us, we're going to shine. Little did we know how much that message would resonate, and that it would end up on the side of two buildings to date. Learn more here.
3. 28 Days of Kindness became a global movement
We believe one good deed deserves another. 28 Days of Kindness is a global initiative to promote awareness of doing good deeds for others. While you can easily share the love on any day or month of the year, we chose February for our month-long virtual event. Check it out.


4. The Have A Nice Day Project was featured on ABC2 News
The Have A Nice Day Project started in 2015, with the simple idea of spreading positive messages to our neighbors in Baltimore City. We gather once a quarter (virtually now because of the 'rona), and write positive messages on blank coffee cup sleeves.
Those sleeves are then donated to locally owned cafes around Baltimore City. This project has brought joy to so many people. It's good vibes from start to finish. We've been featured on ABC2 News, Baltimore Style Magazine, and Baltimore Fishbowl. We've also partnered with some amazing organizations and small businesses. And in 2020, we figured out how to make this a virtual event. We love this project, we have no plans of stopping anytime soon.
5. We're local and we're global
Our CEO has always had the wanderlust. In 2013, she packed up her car and worked remotely in a different city each month while driving around the country. Her goal was to live like a local without being local. She found coworking spaces and cafes, volunteer opportunities, and new friends that she has remained connected with throughout the years. In 2018, wanting to test the limits of remote working further, she took flight across the ocean, spending a month in a different country, as she worked her way through South Africa, Morocco, Portugal, Spain, and Croatia just to name a few. You can follow her journey here. She can't wait to hit the road again.
6. We've made some fun, Baltimore-themed products
We wouldn't be surprised if one day we have our own online store full of our creations. That day is coming. But in the meantime, we love testing the waters with some of our small-batch items, and are even more excited when we can donate a portion of sales to local nonprofits. A favorite item of ours is the soft-touch Baltimore notebook set. Representing Baltimore in a unique, creative way, this set of 3 notebooks showcases two iconic images in Baltimore (The Patterson Park Pagoda, and The Greatest City in the World bench), coupled with one of the latest mural campaign to spring up in the city: Shine Your Light Baltimore. See this and some of our other items.
7. In 2017, we celebrated the legacy of B'More Creatives
Jess had this to say "I've always loved B'more Creatives (est. 2004, professional networking group for women in the creative profession). I've been a part of the group since 2007 and have spent more than half of that time in leadership roles. We were established at a time when other creative groups were not very active. Professionals and students in our industry were hungry for ways to connect. Over the years we've hosted countless networking events, seminars, educational panels, a mentor program and more. I've had the pleasure of working with some very dedicated board members and advisors who helped bring these ideas into fruition." Keep reading.


8. In 2010 and 2011, we helped to organize Baltimore's first design conference
The A Day in the Life Conference came at a time when it felt as if Baltimore City was being overlooked by brand-name design conferences. Our goal was to make Baltimore a hub for creatives to learn and thrive.
We hosted the event at Maryland Institute College of Art (MICA), and invited speakers from around the country to come share their knowledge here in Charm City. We were a group of volunteers, passionate about design and eager to make a difference. This is the conference that introduced us to Baltimore photographer John Waire, who would later partner with us on several community feel-good initiatives. This is also the conference that connected us to so many exceptional creative professionals and students. We're forever thankful for the volunteers that worked with us to make this event happen.
9. Ignite SXSW – 28 Days to Save the World
In 2015, Jess threw her name in the hat to speak at Ignite SXSW, a rapid-fire speaking event where participants have 5 minutes and a handful of slides to tell a compelling story. At the time, the most unique project we were working on was 28 Days of Kindness, which started in Baltimore, but grew momentum and spread to people in Australia, South Africa, Kenya, the UK, Canada and beyond. Her presentation was based on the idea that you really could change the world in 28 days. Signing up to be considered for Ignite SXSW was something she did and then forgot about. So it was a sweet surprise when she was selected to jump on stage at SXSW and tell her story.
10. Jess meets Anna, our Director of Digital Marketing
Jess was a couple of years into her business, and was attending the B'More Creatives winter mixer. Anna's friend had suggested she come out for the night. Anna wasn't planning on drinking that night, but Jess was working the room and immediately offered her a glass of wine. Who could resist. Points North couldn't be what it is today without Anna, who has played an important role in the digital and SEO services that we offer to our clients. This was a business match made in the stars, and it's been going strong for so many years, we've lost count.


11. Points North gets a brand-new website, finally.
In 2017, our company adopted the name Points North. But we never did a full update to our website. Since we were retaining the existing brand colors, and our existing website had good bones, we just updated the logo and language, and kept it moving. Have you ever heard of the saying "the shoemaker's kid has no shoes"? That was us.
We were so busy doing stellar creative work for our clients, and neglecting the new website that we sorely needed. It's not that our existing site was bad (of course not, we did design it, after all). It's more that technology was (and still is) changing at rapid speed, and the realm of possibilities for website design had grown exponentially. Our goal for the new website was to not lead with our portfolio, but to lead with our heart. We wanted to create an experience where you get to know us. We couldn't be prouder of our new web presence. It resonates with the idea that we are all dreamers, looking to chart our own ways home. We want to take you North.
–
Thank you for taking a trip down memory lane with us. Thank you to the Points North team, and to our clients, for being amazing. You are all appreciated.