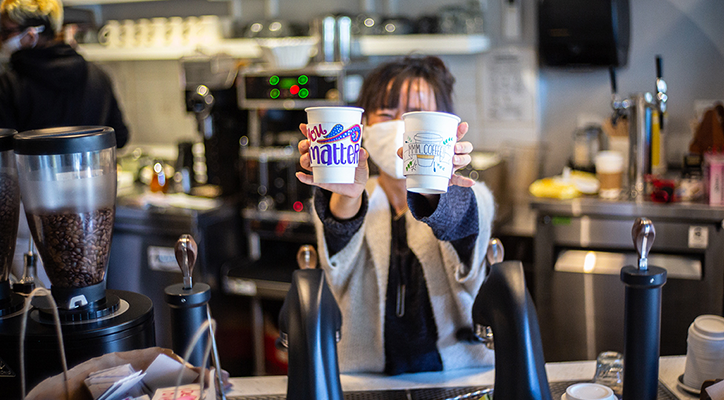 BALTIMORE, MD: On the weekend of April 25th, we hand-delivered activity kits to 20 different households in Baltimore. Each home was different, some containing individuals, roommates, couples, and families. Each kit included 25+ coffee cup sleeves, markers that were sanitized before packaging, and instructions to wash your hands before starting. These homes were tasked with sending a message to the residents of Baltimore. A message of hope.
The Have A Nice Day Project, est. 2015, is a quarterly community gathering event where attendees write positive messages on blank coffee sleeves. Those sleeves are then donated to locally-owned cafes in Baltimore city. "I wanted to find a way to reconnect with a couple of the cafes we support with this project," Watson said, "but I wasn't sure if we'd be able to pull off a delivery of custom sleeves without having an in-person event." We knew people would be home, and likely looking for new and engaging projects.
"We love those sleeves," said Gloria, owner of OneDo Coffee Roasters in Canton, "and it would be so awesome to give them out in this difficult time." OneDo Coffee Roasters recently reopened for pick up and take-out orders only.
"This is really good for the community," said Adama, owner of Koba Cafe in Federal Hill. "We love the sleeves and these are messages we need right now."
On May 2nd-3rd, Watson drove around to those same homes and picked up the sleeves. In doing so she also enjoyed some nice social distancing on the many stoops, porches, and decks of Baltimore city.
"We really enjoyed doing this project," said Dave Stock, Baltimore resident. "It was so much fun. If you need any more done please sign us up."
And then on Saturday, May 9th, she was joined by photographer John Waire (TheWairehouse, Shine Your Light Baltimore) for a successful delivery to both cafes.
"I was so impressed with the variety of sleeve designs and messaging," Watson said. "You can tell the spirit of Baltimore is still strong, even though we are separated and sheltered in place."
Jessica Watson is the CEO and Creative Director of Points North, a graphic design studio based in Baltimore. She is a Brand and Communications Strategist who partners with CEO's, executives and entrepreneurs to transform them from where they are into where they want to be. When she's not designing, you'll often find her working remotely from cities in the US and abroad, kayaking on a lazy river or planning her next big travel adventure.
Points North Studio is a design studio that helps ambitious brands transform where they are into where they want to be. We use strong design, marketing strategy, and storytelling to produce lasting results for our clients. Let's find your north.