A couple of years ago, we told the story of the origin of Shine Your Light Baltimore, a project we collaborated on with Baltimore photographer John Waire, from TheWairehouse. We've continued down the path of selling tshirts with the message Shine Your Light Baltimore (with proceeds going to local charities). At local events, we started doing sticker decals that you can place on your laptop or might find displayed at your neighborhood cafe/bar. It's a positive message, it's telling Baltimore to shine anyway, despite what others might see or say about us, we're going to shine.
"I'm surrounded by good people, doing good things. Everyday things. Extraordinary things." says Waire about our collaboration on the Shine Your Light Baltimore t-shirt. "These are stories that, on some level, we can all relate to and rally around. I want to ensure that these stories are seen."
In 2019, John and I got to talking about what the future held for the message. We decided to put up a website making it easier for people to find the message, learn it's origin story, and support the cause.
John had always wanted to see the message on a billboard, a building, or somewhere where it could be large and very hard to miss. Towards the end of 2019, Shine Your Light Baltimore got its first mural, located at 2637 St Paul Street (it's a corner building, the mural wall is on 27th St). It happened like clockwork. John put the word out on social media that he would love to see the message on a building, and then a building owner reached out to get involved. Then, we were seeking a mural artist. The local artist who put the image in paint on brick is Samantha Redles, of Humanmade Signs. This photo is courtesy of Samantha's Instagram feed. We got connected simply because she posted on Instagram that she was available for new projects right at the time that we were thinking "who's going to paint this mural?" Ask and you shall receive.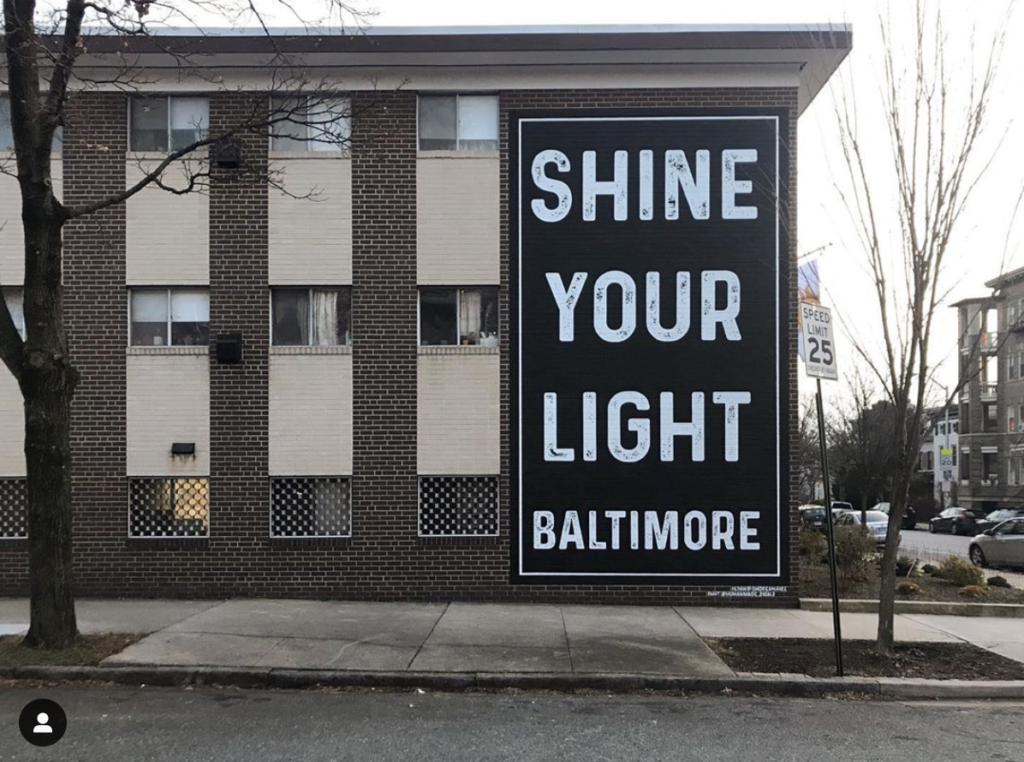 "We are stronger and brighter together," John says, and we are all excited for what this movement has in store.
Recently, a story about the project was featured on Fox45 news. And also, thanks to a successful Facebook fundraiser, the second mural will get underway when it gets a little warmer (mid-March to early April) alongside Charm City Fitness, on the corner of Elwood and Eastern Avenues.
Stay connected with the project here:
Website: https://www.shineyourlightbaltimore.com/
Facebook: https://www.facebook.com/shineyourlightbaltimore
Instagram: https://www.instagram.com/shineyourlightbaltimore/
Twitter: https://twitter.com/sylbmore