If you're like me, or like the countless other people across the globe, the internet is your go-to source for anything and everything. It's how you get your news, politics, or entertainment. It's how you diagnose your headache or order groceries. it's how you connect, and it's how you feel connected. Every bit of information is at your fingertips.
With life moving online in light of the pandemic, it's now more apparent how vital the internet has become. The majority of people are studying or working from home, among doing other things. The pandemic also surfaced the underlying reality that not everyone has the internet in their homes.
If the right to education and the right to work are both human rights, you might be asking yourself why the right to internet access isn't included.
"COVID really shines a light on this issue," said Adam Bouhmad, founder of Project Waves. "Internet access has always been important … without it, you're at a severe disadvantage."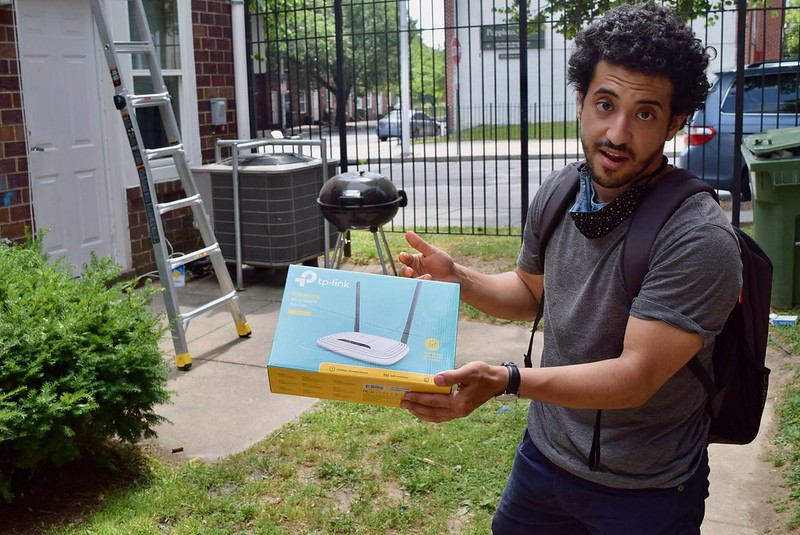 Project Waves is a nonprofit that uses community-based mesh networks to provide free (or a "pay-what-you-can" donation) internet to communities in Baltimore. With a strong belief that pricing should not be a barrier to internet access, they are making major strides in closing the digital divide in the city.
Internet access is now vital for access to jobs, to education, for improving worker rights, and to ensure freedom of expression and access to information. However, approximately 19 million Americans—6 percent of the population—still lack access to fixed broadband service at threshold speeds.
According to the 2018 American Community Survey, 96,000 households in Baltimore (40.7%) did not have wireline internet service, such as cable, fiber, or digital subscriber line service. And some 75,000 Baltimore City households, or one in three, do not have either a desktop or laptop computer.
Earlier this year, Baltimore Mayor Brandon Scott created a new role within the city's government – director of broadband and digital equity. The position is focused around closing gaps in a city where thousands of households lack device and internet access.
"A citywide digital equity director signals to the people of Baltimore that the Scott administration is taking the digital divide seriously," said Samantha Musgrave. Musgraves is head of operations at Project Waves.
"We are trying to work with communities to provide something we believe is very important, which is access to the internet." said Bouhmad, "our whole model is tackling the issue up front and working with communities in actually bridging these inequities."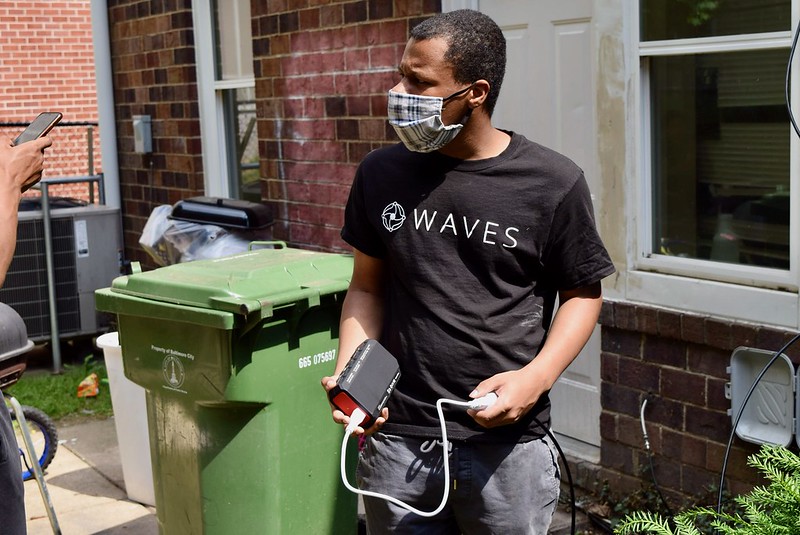 With the help of grants and other contributions, Project Waves handles installation and service expenses. Volunteers also work to set up the equipment (which is donated) in communities. Each installation could provide internet access for hundreds of Baltimore residents.
"This is something that I'm going to do because this is something that needs to happen," says Bouhmad.
Looking to learn more about Project Waves?
You can visit their website or email contact@projectwaves.net, join the movement, or make a donation.
Photos by Digital Harbor.