–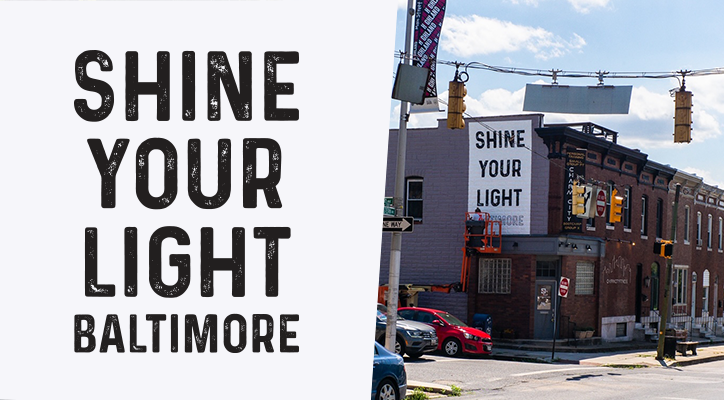 Right before our city closed as a safety precaution for COVID19, Shine Your Light Baltimore had received the green light to move forward with a mural on the side of Charm City Fitness on Eastern Avenue, right across from Patterson Park and very close to Creative Alliance if you need a visual landmark. Here's the address: 3039 Eastern Ave, Baltimore, MD 21224 (corner of Eastern Ave and South Ellwood Ave).
With Baltimore City now fully into phase one of reopening, our crew quietly got back to work on making this happen. The visionary behind Shine Your Light Baltimore, local photographer John Waire, has been documenting the progression of this mural coming to life. Often seen behind the camera, Waire is excited to see this message so boldly painted on the side of a second building in Baltimore, and hopes that this is just the beginning. The first mural is at 2637 St Paul Street (on the corner of St Paul and 27th St).
"I'm surrounded by good people, doing good things. Everyday things. Extraordinary things." says Waire about the project. "We are stronger and brighter together,"
The local artist who put the image in paint on brick is Samantha Redles, of Humanmade Signs. We found her on Instagram and the rest is history.
Get yourself a Shine Your Light Baltimore tshirt. $5 from the sale of this t-shirt will be donated to Baltimore Chesapeake Bay Outward Bound School. Outward Bound uses experiential education techniques in a supportive yet challenging environment to teach their students that they are capable of more than they ever thought possible.
Follow Shine Your Light Baltimore on Instagram. Take a photo with or of either of the two murals and tag us. We'll give you a proper shout out.
Photos courtesy of John Waire, TheWaireHouse