–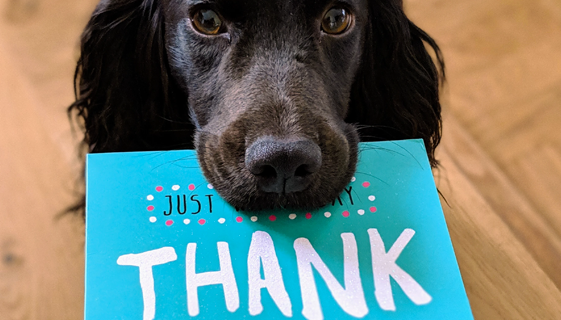 From Our CEO: In a few short months, we'll be 10 years old. As I sit in our Baltimore office, my desk has congratulatory letters from The Maryland House of Delegates and McDaniel College Office of the President to congratulate me on being selected as one of Maryland's Leading Women by the Daily Record. It's a reminder during our busy season that we've had a great year. It's also a reminder that we're all connected and the little things, like sending a note in the mail, matter. With that in mind, I wanted to share what we're thankful for.
–
We're Thankful to Baltimore
Baltimore has been an exceptional home base for Points North Studio. Our office is nestled in the perfect nook downtown, and we are right next to the inner harbor. I am excited that I get to bike commute to work, which for me is free cardio. We love giving back to the city with our community initiatives like Have A Nice Day Project and Shine Your Light Baltimore. It's allowed us to dive into so many great neighborhoods and connect with local business owners everywhere. It's also allowed us to connect with the people who are from here, who have moved here, who are raising their families here, who are buying homes here, and so on. Full disclosure: sometimes we worry about the things you see on the news regarding this city, and also about the rising cost of living, but we do remain hopeful for Baltimore's future and where we fit in the bigger picture.
–
We're Thankful for Community
I can honestly say that I know the best people, and many of them are a part of my Baltimore community. I have a community where when I need advice or to ask a question, I know who to reach out to. When I need my bike repaired, I know which local business to pull up to. When I want to create a unique event for Baltimore Women in Tech or Baltimore Volunteers, I have people who will show up, every time. I've never seen anything like this before, but I'm excited about the energy in this city, and how much people are committed to getting involved and making a difference.
–
We're Thankful to Our Clients
The most unique thing about our relationships with our clients is that some of them span over years. Seriously, that's longer than some of the apartments I've rented or even office spaces that we've called home. We are really big on relationships, and to be honest we always feel like when we're working with a client, we're partnering in their success. We're committed to learning about them, their industry, and what they see for their future. Still, when you're choosing Points North Studio, you're putting your faith and resources into a company that you hope will deliver, and there's a lot of trust that goes along with that. We appreciate your trust every step of the way and look forward to engaging in new projects with existing clients, as well as bringing more new clients to our extended family.
–
We're Thankful to Our Team
Our core team is based in the Baltimore area, but we have some team members that go beyond state lines, country borders, continents and more. And we love it. The diverse team that we have means several points of views and perspectives working on a project, working together to deliver the best finished product to our clients. It's a collaborative, team effort. Many of our team members have been with us for 8+ years, and a couple just started within the past year. We're growing, but we're still very much a small studio set on delivering big results.
–
We're Thankful for You!
If you're reading this message, I hope you know that we appreciate you. It takes a village to raise a business. Every time you read a blog article, or like something we did on social media, or show up to an event, or open an email, that matters. You are helping to widen our reach. You are giving us the momentum to continue to do what we do. You matter to us, and we're grateful for you being a captive audience to our journey.
–
In Conclusion
We've had an amazing time growing this business, and appreciate the opportunity to reflect and show love for everyone and everything that falls in place to make companies like Points North Studio happen. We're looking forward to finishing out this year strong.
–
Photo by Howard Riminton on Unsplash