What is rebranding, anyway?
One of the first steps to a successful rebranding is understanding what a rebranding entails. Rebrand is not changing your logo from green to blue or updating your website. Your logo — the central identifiable design element that helps your customers learn about and remember your products and services — will likely need updating during a rebranding, but it is not the main outcome of the rebranding process.
Branding is storytelling. This story encompasses expectations, memories, experiences, and relationships that, together, account for a customer's decision to choose one product or service over another.
During a rebrand you have a new story to tell. Your brand — all the way it interacts with the world from logo, website, social media, client meetings, stores, etc. — must align with the story you want to tell. Rebranding is necessary when your brand is no longer telling the right story about your business.
Why are you rebranding?
There are many reasons why you may need to embark on a rebranding journey. Maybe your company has grown or shifted its main products or services. Perhaps your target demographic has changed. Maybe your brand was never telling the right story and it has always caused confusion for potential clients. Taking the time to discover the underlying reasons why you are interested in a rebrand will help you understand the new story you want your branding to communicate.
One of our health tech clients CredSimple knew it was time for rebranding when their name no longer told their story. CredSimple had started with a focus on simplifying the credentialing process for providers, but as the company grew so did their scope. The services they now offer include much more than credentialing. A rebrand was needed to reflect this change. Learn more about how CredSimple became andros.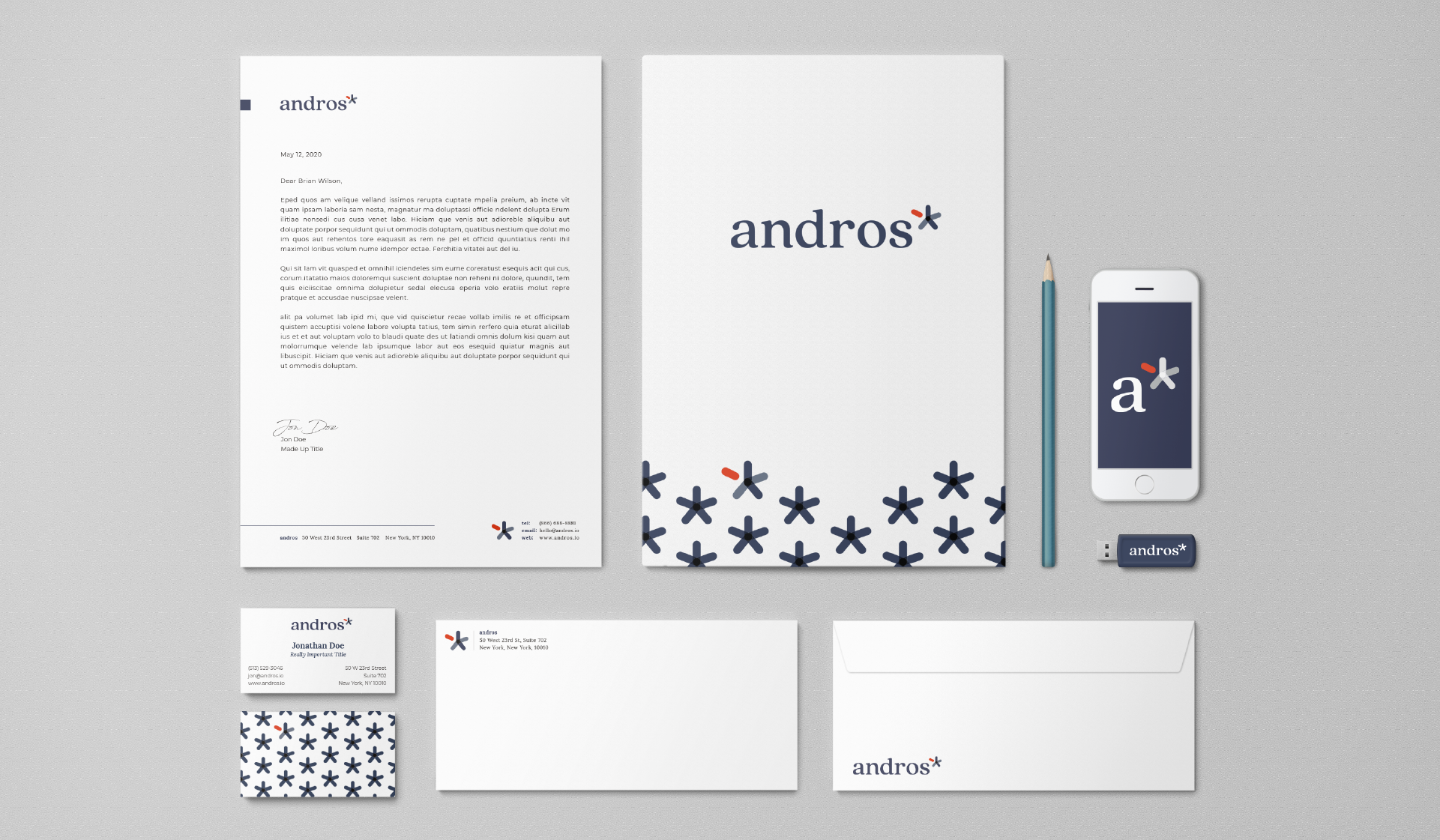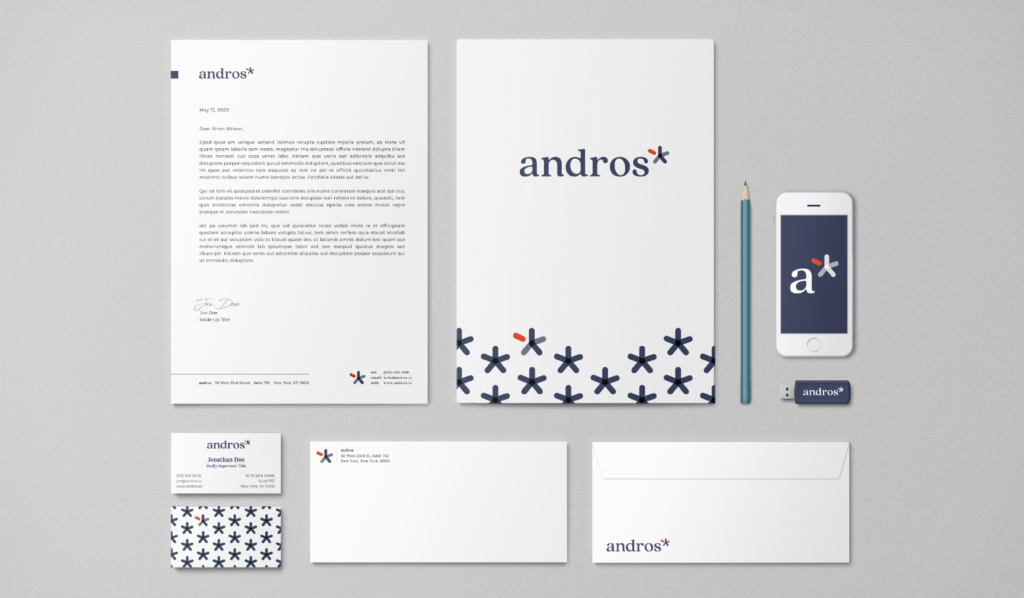 How will you tell your new story?
Now for the fun part! Once you have a clear understanding of the new story you want to tell through your branding, you can start the design process. The design for your new branding should quickly and intuitively express the emotion of the story you want to share with your customers.
We are constantly being bombarded with images vying for our attention both on the street and in the digital space. As such, we've all become design connoisseurs whether we know it or not. Within seconds, we make the decision to click or scroll past. Potential customers will know within a few seconds of seeing your logo, store front, or website if they want to know more about your company. For this reason, it's important to keep your design clean and on message. As you are experimenting and figuring out the colors, logo, fonts, and style for your rebrand, it's critical to remember that all of these elements should be in service to your new story. Look at how we made color and imagery work for the new brand of our client, Finery.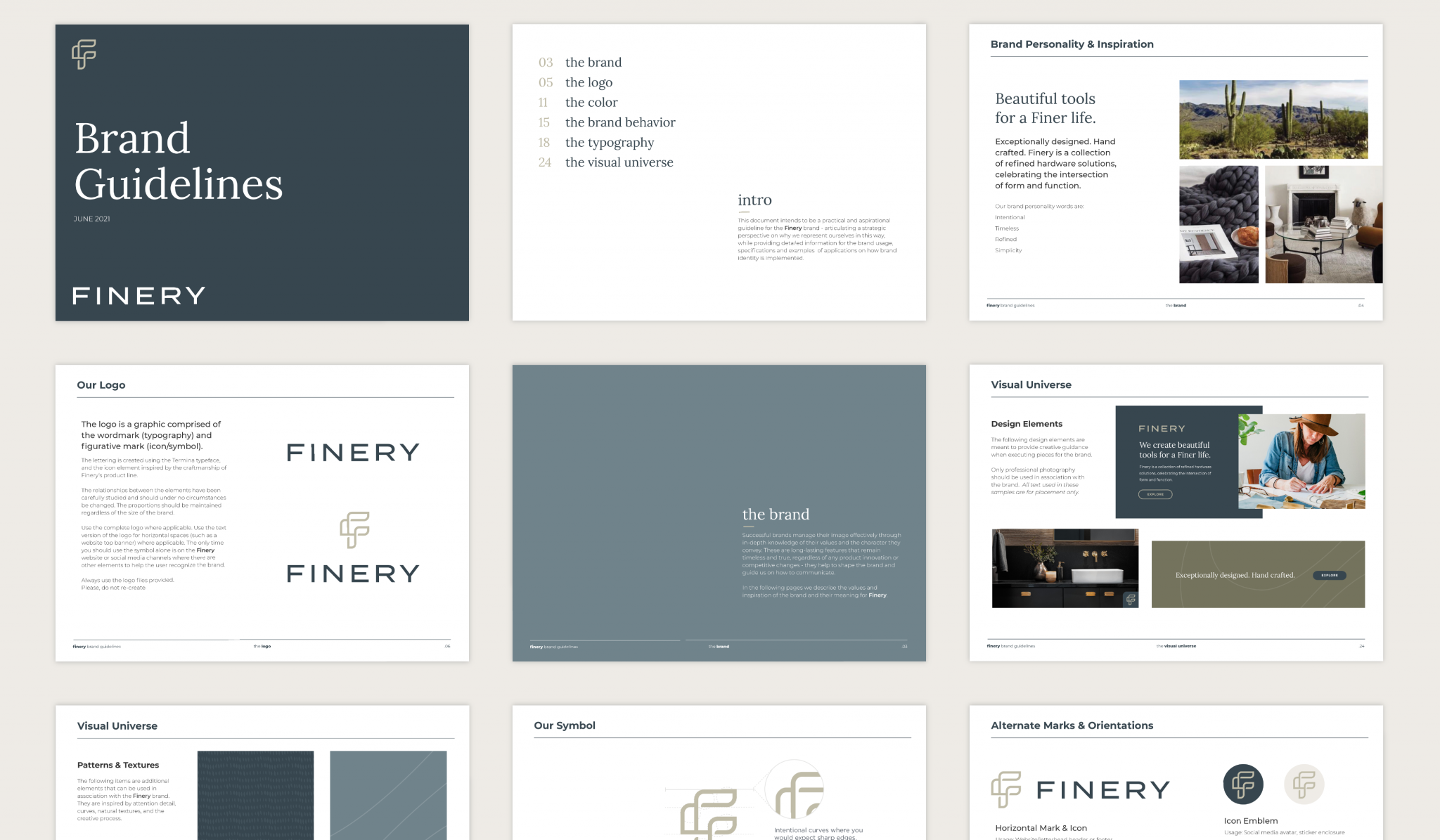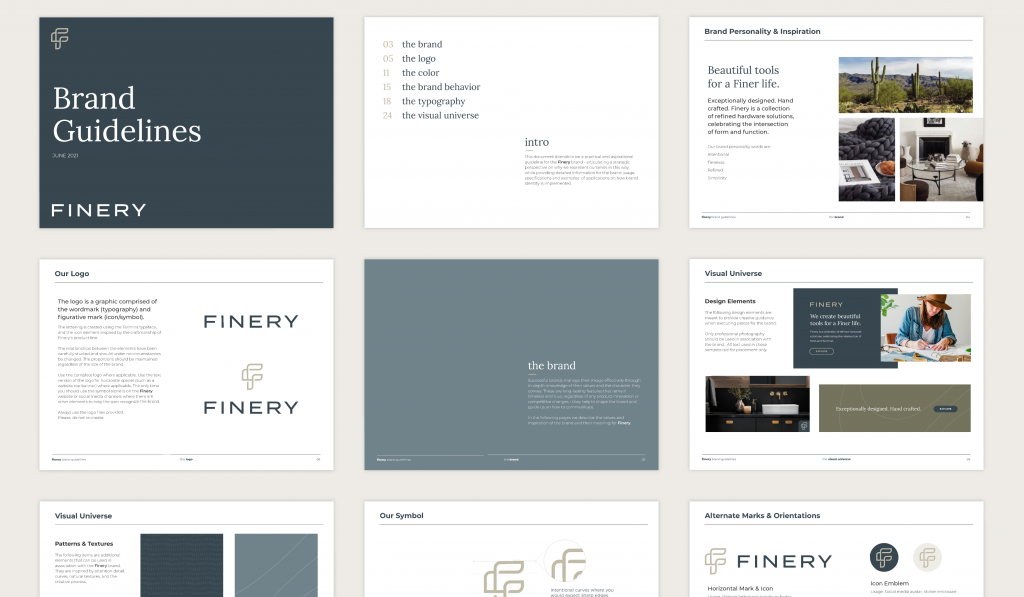 What's your timeline?
Choosing the right time to rebrand is essential. Rebranding is a process that takes time and insight.  For a rebrand to be successful you need the energy and time to give astute and thoughtful feedback to your design team. If you know that Q1 is full of client deadlines that require heavy lifting from everyone on your team, it might be better to wait until Q2 when you have more breathing room and will be able to devote the necessary attention to make sure the rebrand is purposeful.
How will you introduce your rebrand?
When rolling out a rebrand it's important to let your loyal customers know that a change is coming. By giving customers sneak peeks of the new colors or logos ahead of time, they will feel included in the rebranding process and will likely embrace the new brand elements without hesitation.
When the launch date arrives, you want to make sure you are comprehensive in updating your brand across all platforms. Creating a brand guide for employees will help the launch of the rebrand go smoothly for everyone as they start to use the new design elements. A consistent launch of the rebrand will make the change easier to quickly adopt and understand for new and returning customers as well as employees.