–
"I'm surrounded by good people, doing good things. Everyday things. Extraordinary things." says photographer John Waire about our collaboration on the Shine Your Light Baltimore t-shirt. "These are stories that, on some level, we can all relate to and rally around. I want to ensure that these stories are seen."
John Waire is no stranger to Points North. We've been working together for years. He's been our choice photographer for various projects, including the first ever Baltimore Design Conference that we ran in 2010 and 2011. He has also worked with some of our clients for head shots and lifestyle photography.
"John is usually who I think of first to collaborate on a project with," says Jess Watson, our CEO & Creative Director. "He's got such a big heart for the city, and loves getting involved in good causes. He's exceptional at capturing the everyday moments that matter. Not to mention, we both like to bring people together in ways that create fun experiences and give back to the community. It's a win win."
We sat down with John in February and started talking tossing around ideas of doing a fringe event for Light City Festival this year. Fringe events take place in neighborhoods around Baltimore city during the week of Light City, and they usually have a focus around art, community and light.
John always signs his emails with shine your light. We thought this was the perfect statement that people could really rally behind and take ownership of.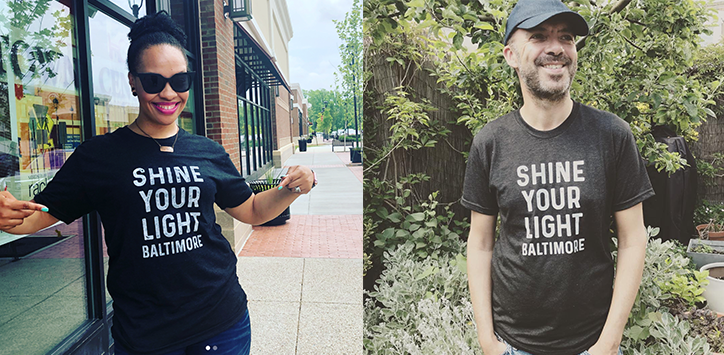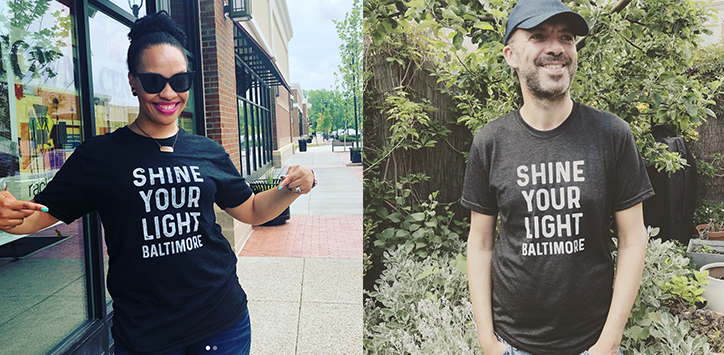 Featured: Shalita O'Neale from Fostering Change Network Foundation, and Ian Sanders from The Ian Sanders Company.
"T-shirts are a great way to make a statement," Jess says. "I am not sure how we change the way outsiders view Baltimore, but I do know that every day there are people in this city who are making an impact and strengthening our community. The Shine Your Light Baltimore tshirt is designed with distressed letters on purpose. The light is shining through the darkness, reminding us of the good that happens every day in our city, and what's possible when we come together."
We reached out to Connie Weller with Kindness Tree Movement (a local apparel company bringing more kindness to the world), to help with getting a short run of shirts printed for our Light City fringe event. She came on board ready to get things done, and took video of the production of the very first shirt.
And that's how the Shine Your Light Baltimore t-shirt made it's debut at our April Have A Nice Day Project event at Wet City. Since we put that shirt out there, we've been getting inquiries everywhere about how to buy more. We heard you, and we've made it happen.
This is about more than a t-shirt. This is a movement.
–
–
These shirts are made to order, each with some of the same magic that brings this city together. $5 from the sale of this t-shirt will be donated to Community Law in Action (CLIA).  CLIA develops young people to be leaders by connecting them to opportunities to amplify their voices, cultivate their skills, and actively participate in the process of positive community change.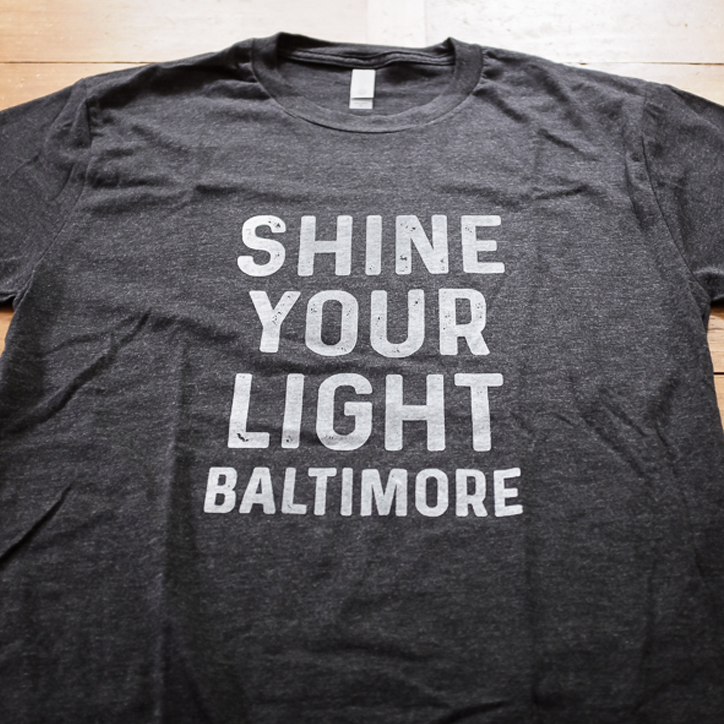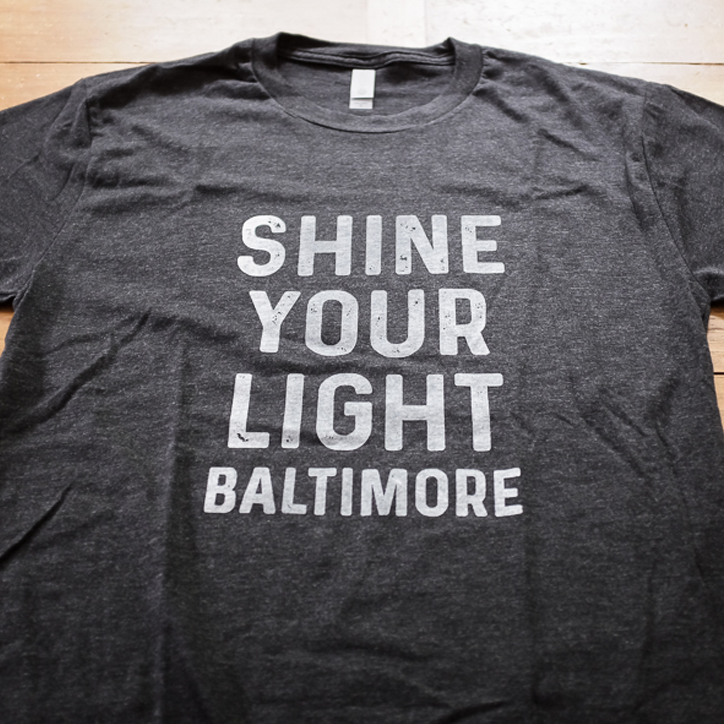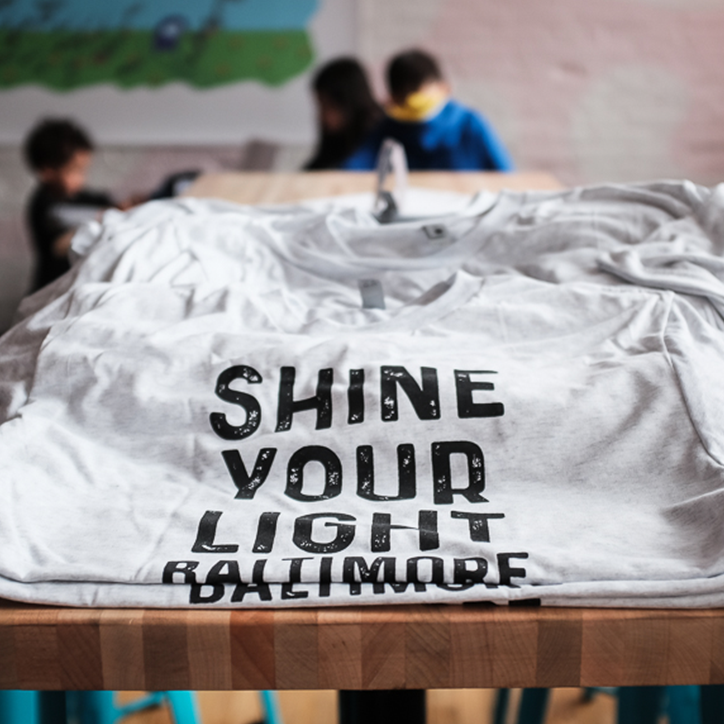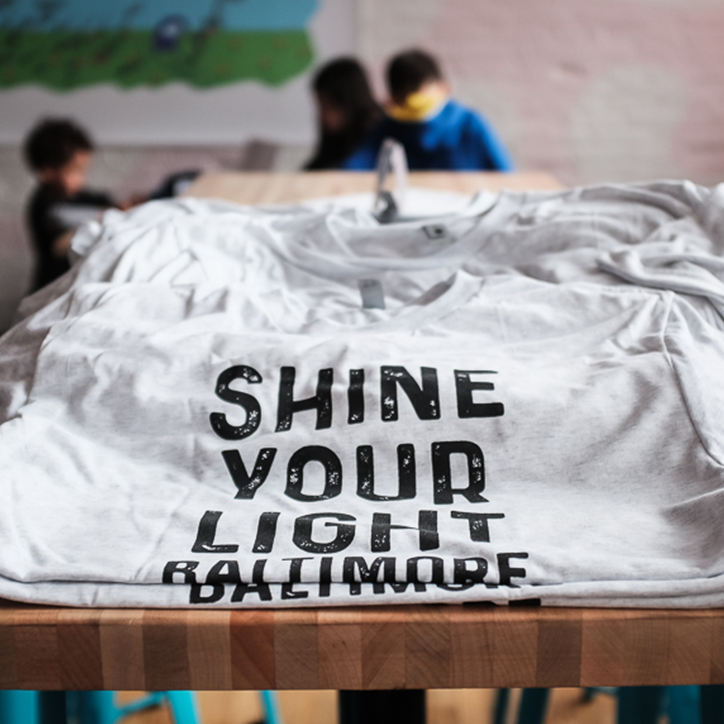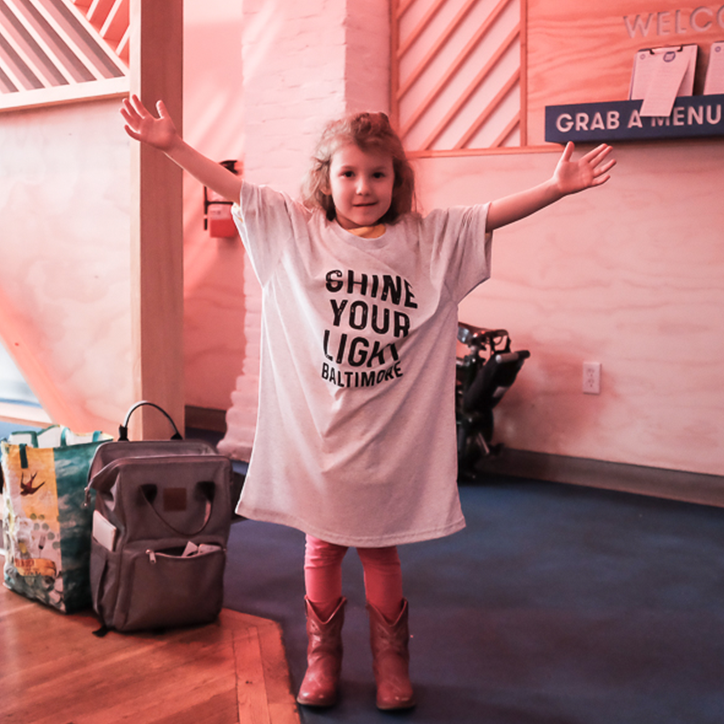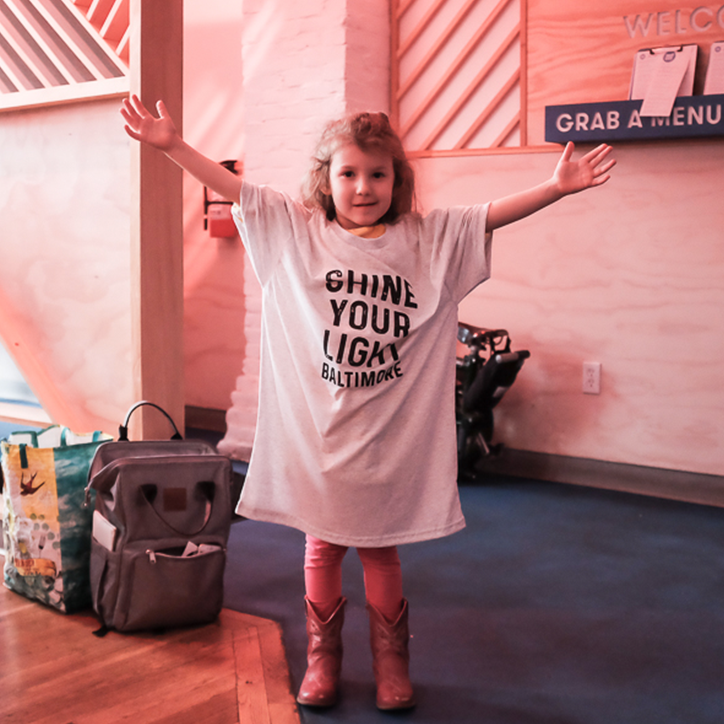 –
Do you like inspiration and sage advice that combines leadership, business ownership, and travel? Sign up for our monthly newsletter. 
You Might Also Like:
An Ode to Getting Your Hands Dirty
It's Up To You To Be Inspired
The Importance of Gratitude in Business
Client Spotlight: Esther Collinetti – You Are Enough