This year, Points North Studio turns 10 years old, a milestone that when I first started this company, I didn't realize was a thing. You can write all the business plans you want, ironing out every detail, but it's one thing to put it down on paper and something completely different to step into it. Truth be told, it doesn't matter if you meet the height requirement or not for this ride, nothing can really prepare you for the roller coaster of owning a small business.
This is a huge year of reflection for us, and a year of possibility as we continue to climb. Here is part one of what will end up being 10 pivotal moments (5 highlights and 5 confessions), as we deep dive into the inner workings of Points North Studio.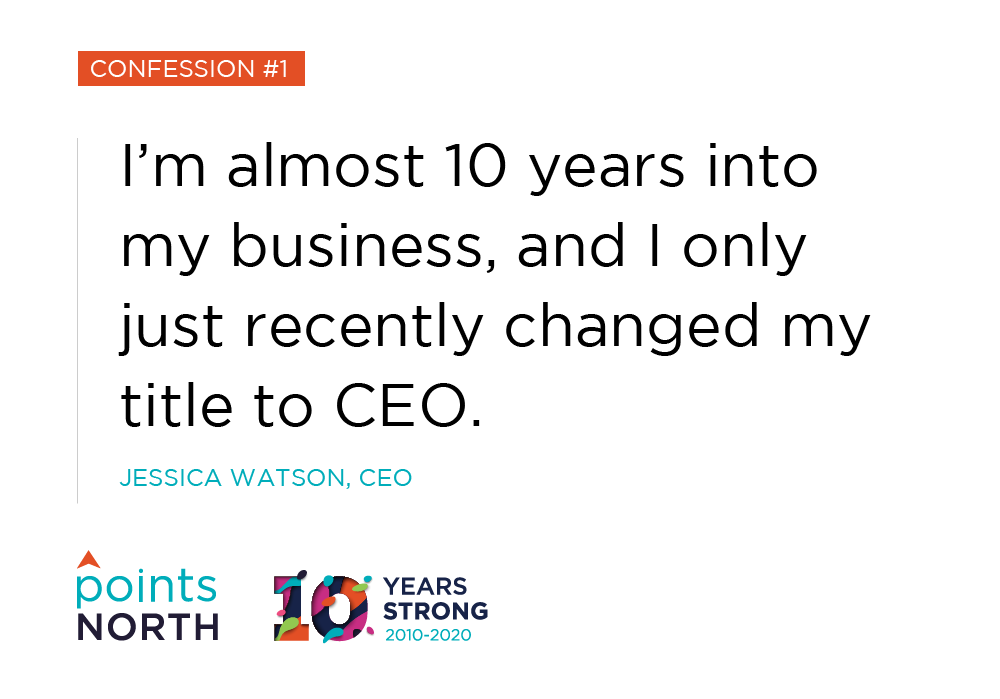 CONFESSION #1: "I'm almost 10 years into my business, and I just recently changed my title to CEO," I texted a friend to shake her from her imposter syndrome to sign up for an open mic event where she would be performing her poetry. I was always President or Founder, and in one iteration of my business card I was simply Creative Director, not claiming at all my seat on the throne. It wasn't until I saw my male colleagues proudly dawn the title of CEO with only barely registering their business name, that a lightbulb went off. What does it take to call yourself a CEO if you own the business, your sweat laced in every brick of this house that you're building? What is business leadership if not trial by fire and light? It turns out, all it takes, really, is to simply change your title on your business cards and email signature, and to own it.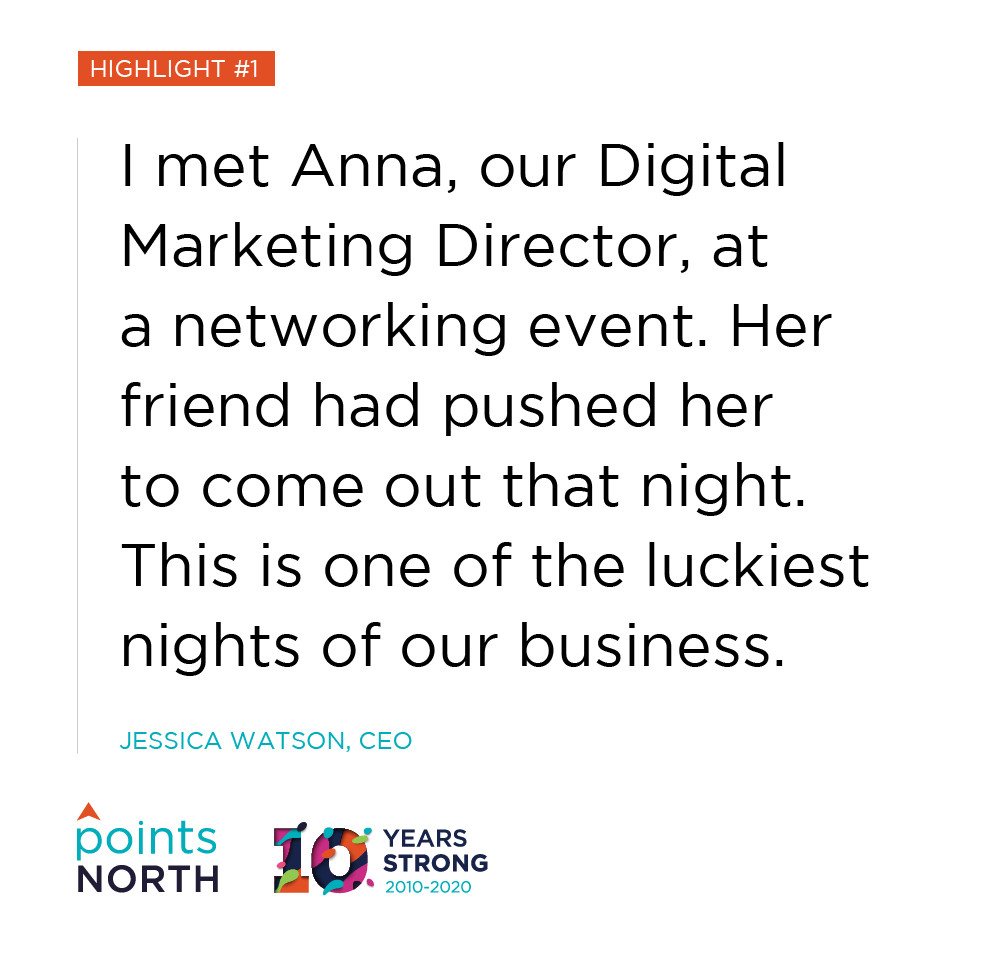 HIGHLIGHT #1: I met Anna, our Digital Marketing Director, about two-to-three years into our business. I had helped to organize a holiday mixer for B'More Creatives, a professional group for women in the creative profession. We held it at an eccentric restaurant called Mr. Rain's Fun House, which was above the American Visionary Art Museum. This was one of our luckiest nights because I was also two years into falling unceremoniously short with the web development leg of the company. It was a thorn in my side, and it didn't match the level of excellence I wanted to continuously deliver to our clients. Anna was someone who thoroughly enjoyed the comforts of home, and could've easily been there instead of out on this winter night. A friend had lured her to this event. She also wasn't supposed to be drinking for the month of December (I found that out way later), but I came over and introduced myself and offered to get her drink, and the rest is history. We have been through everything together. To put this into modern-day lingo, Anna is my ride or die OG partner in success. This meeting of the minds became a turning point in Points North and a puzzle piece that fit nicely into our bigger picture.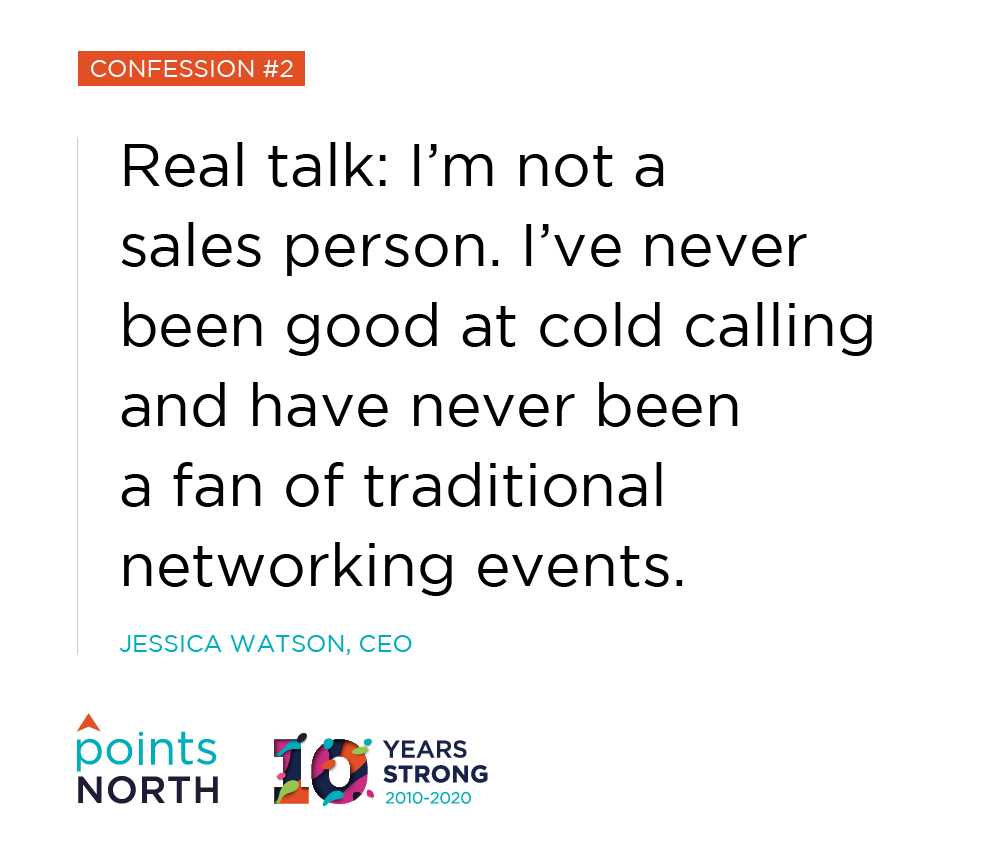 CONFESSION #2: I am not a salesperson. I am not great at cold calling. Who answers their phone anyway for a number they don't recognize? I don't! I also am not a big fan of traditional networking events, although early in my business I definitely put in my time. I despised that dreaded question, "so, what do you do?" Not to mention, in the tech industry, it was not uncommon for me to be the only woman and the only person of color in the room. Let that sink in for a minute. I'll wait…
I used to change my title to "Superhero" on my nametag just to have a different kind of conversation with someone out the gate. To be unexpected and keep them guessing. For one conference, I changed Anna's title on her business card to read "Rock Star," and she didn't notice until she arrived. Having fun outside the box and away from the ordinary was always my cup of tea. I knew that a lot of studios were competing for business. Some were competing on price. We are not the cheapest; never have been and never want to be. That's not the kind of company I wanted to build, nor the kind of company I wanted to keep. I knew that if you were shopping around for a design studio to give you the best price, and that was the sole deciding factor in your decision making, that we were not a good fit.
One of our major competitive advantages (outside of our clean design style) has always been our relationships. My team knows that I've often compared doing business with dating (if they are reading this right now, their either laughing or rolling their eyes… I'm okay with both). I've always felt like whether you're looking for a dentist or a design studio, you want a company that you can go the distance with. Someone who's always looking out, treats you like a person and not a number, and has a vested interest in seeing you grow. So, I've always been about the long game. This was challenging for us in the startup years because the payoff is not immediate by any means. But now we've got some clients that we've been working with for 8+ years, and they are thriving.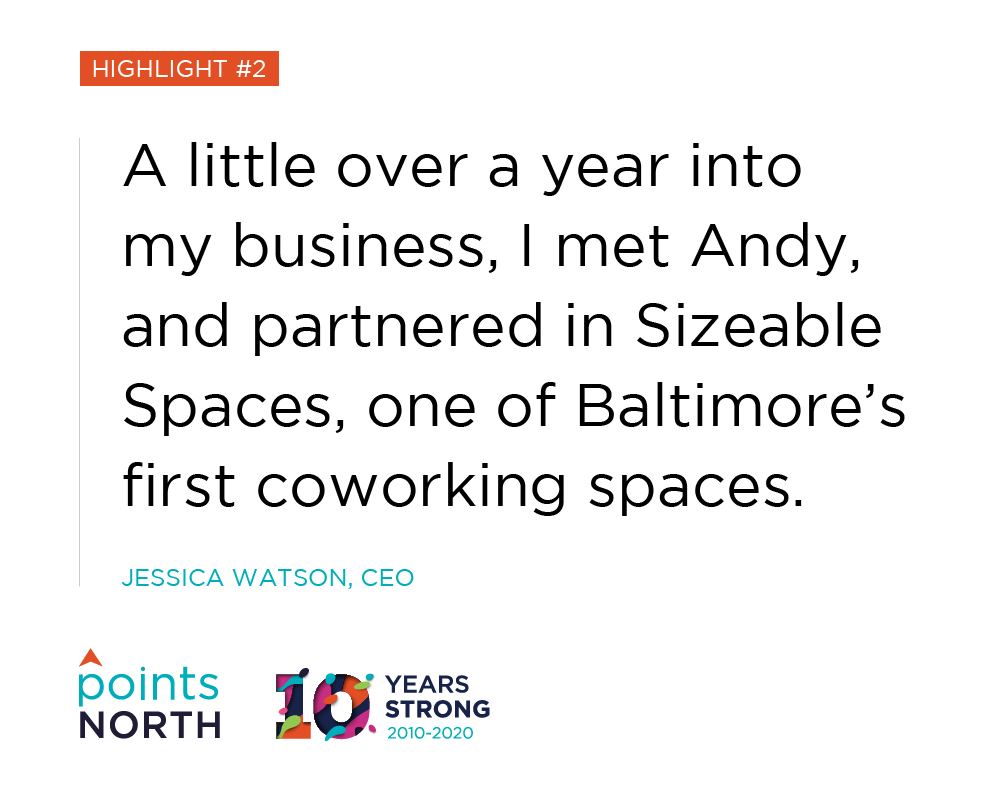 HIGHLIGHT #2: A little over a year into Points North, I met Andy Stratton, a very talented WordPress Developer. We met at a mixer that was put on by AMA Baltimore (American Marketing Association). I remember meeting several creatives there, and that the event was very lively. Like me, Andy was working for himself and also working from home. We bonded over how isolating that lifestyle was, joking about having team meetings with pets and house plants. We were hungry for a better set up, but at that time in Baltimore, there weren't many options for small shops like ours. We kept in touch and kept the conversation going. Months later, after careful planning and a few trips to IKEA, I partnered with Andy, Mike Calabrese (SEO Digital Marketing Specialist), and Rob Spangler (Web Designer) to create Sizeable Spaces, one of Baltimore's first coworking offices.
We were based in historic Federal Hill in south Baltimore, up Light Street and very close to the inner harbor. This was before the wave of coworking spaces that are now popping up throughout the city, tied to corporate real estate and economic development interests. We were early. There were stylish, vintage superhero posters on the walls, and when you rented a desk, you got to pick which superhero you wanted to be. You also became a plant parent to the green leaf potted child that was waiting for you at your desk when you arrived. Sizeable Spaces stayed open for about two years. It was a wild ride. As our businesses grew and moved in different directions, and well-funded coworking spaces were on the horizon, we closed our doors. This was one of the early moments in my business when I felt like I could do and be a part of big things, in Baltimore and beyond.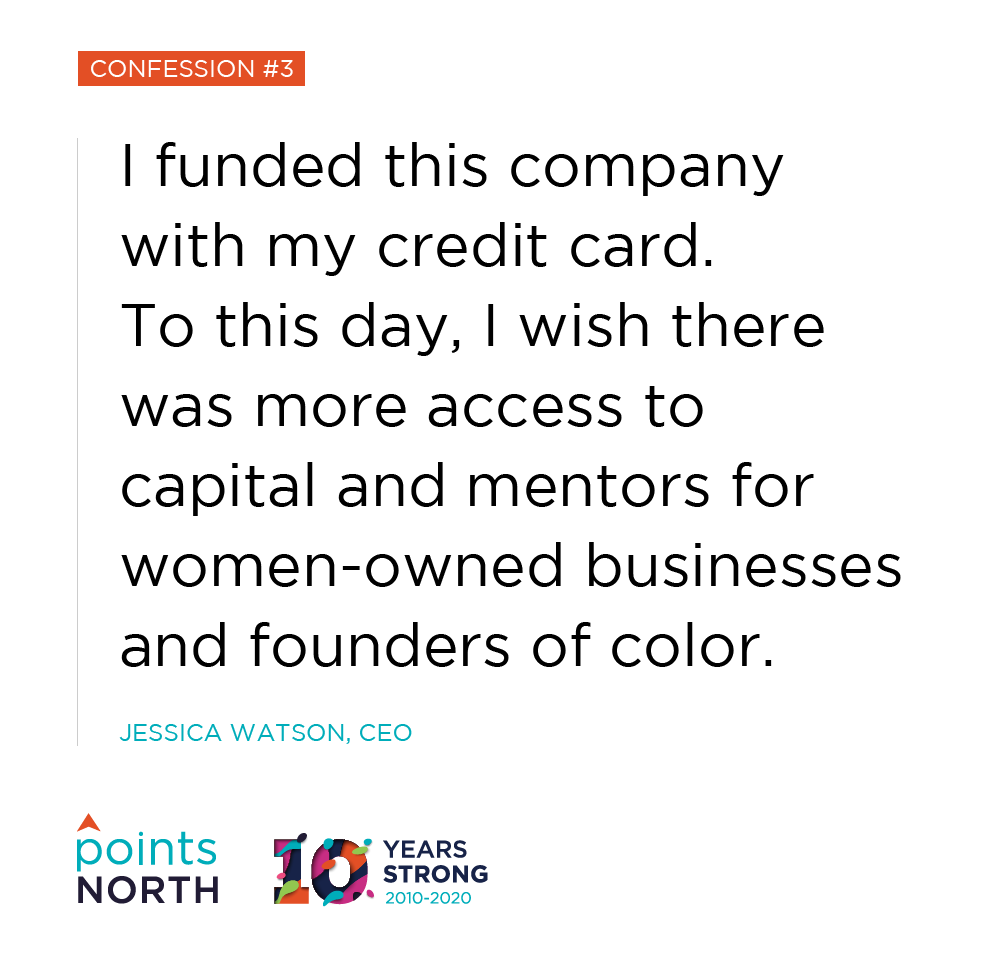 CONFESSION #3: I used a personal credit card to start Points North Studio. I waited until I locked in a new living situation in Baltimore City (which essentially doubled my living expenses since I was moving from the county). I knew that if I was going to be starting a business, I needed to be in the city. I used paystubs from my full-time job as proof of income, and then I quit that job shortly after moving in. My new city life included a little rowhome on a treelined street in Fells Point, with accent walls and exposed brick. It was my first time making a very risky move and also taking on debt that I could not immediately payback (that's outside of student loans). This changed the trajectory of my finances for the first few years of my business. Looking back I wish there was easier access to capital and advisors for young business owners of color. We are young. We are hungry. We just don't have the experience yet to intuitively know our way, to know where to step in this dark room and reach the door on the other side, and that is hard.
I made it look easy, and social media is no help in that matter, but I was stressed all the time with the weight of my business on my shoulders alone. And I felt like it was hard to tell people when I was struggling, because when we hear "you're an entrepreneur," we think the world is our oyster. When we're young and inexperienced, we are not prepared for the price tag on that title entrepreneur, and how it will test you: mentally, physically, spiritually.
That aside, you should know that my first rowhouse in Baltimore remains my all-time favorite place to have lived in the city. My mom came up and helped me clear the backspace of that rowhouse, turning soil and planting fresh flowers in the raised beds. In that space I painted; I hosted dinners and bonfires in the courtyard; I wrote funny short stories about the supposedly stray cat who always wandered into my backyard (I named him Fred); and I met the best people, many who are still good friends today.
Stay tuned for Part 2 in a few weeks.