–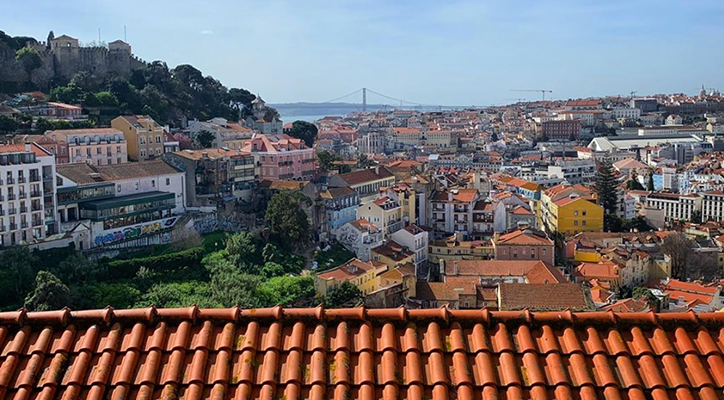 We must keep moving forward, broken plans and all.
"Life is about courage and going into the unknown."
– Movie: The Secret Life of Walter Mitty
–
Just a few days into March I was sitting in a local café with friends, right off the usually bustling main strip of Belém in Lisbon. Belém is a laid-back area on the Tagus River, known for its seafood restaurants and houses decorated with colorful tiles. We were enjoying a traditional Portuguese lunch of grilled fish, fantasizing about Pastéis de Belém (a traditional egg custard pastry) for dessert, and the nap we would all take in the afternoon. We had heard about the growing concern of Coronavirus, but the hysteria had not yet darkened our doors. The most we noticed were slightly fewer tourists, which we were happy about because there was no line to get our pastéis.
That weekend everything changed. Suddenly, restaurants were closing, there was a line to enter the grocery store (a means for crowd control), and as mandated by the government people began sheltering in place. Up until that point, I was prepared to wait everything out in Lisbon, and had already purchased supplies for a prolonged stay. But even amidst the lovely sunsets viewed from the living room, with everything closed, no way to see my friends, and the scarcity of certain grocery staples setting in, I started thinking differently. In Lisbon, I know maybe 10 people (and I would argue they are the best people). But in Baltimore, I have easier access to family and community. Baltimore is where my car and bike reside. As much as I enjoy leaving for winter to work remotely abroad, it is still home and where I should be if sheltered in place.
The travel and security services company International SOS, connected me with a nurse and an expert in travel risk to discuss the implications for going and staying. Both thought my situation was unique. To this day, for example, the state of New York has 10x more cases than the entire country of Portugal. So in fact, I'm traveling home but also to be in a higher risk scenario. Nonetheless, with borders closing an intuition that this would go much longer than a 2-week blip, returning to the US was noted as most ideal for the long term. In the end, I booked a flight for the Wednesday after the mass exodus from the European Union. From a health and safety standpoint, this worked in my favor with fewer people in the airport, less crowding at the health checkpoint, and about-average wait times getting through customs.
I flew from Lisbon to Boston to DC and then had a dear friend drive me to Baltimore. It was one of the longest travel days in my life. My body was weighed down with luggage and a sadness from ending abruptly and not being able to say a proper goodbye. But there is no perfect time for a reckoning. In our day to day we forget that our lives can be upended and thrown into disarray at any moment. This has always been true of life and why we cherish things so deeply. We make plans, and plans can be broken.
While sorting out my new normal in Baltimore, the jet lag is finally wearing off. But as a social butterfly, the isolation is tough. We are in this together. I am happy to shelter in place if it means saving lives, and I'm also fortunate to have a place to shelter into. Let's take this new normal one day at a time, and as always, keep moving forward.
PS, For mental health and sanity, I've been snapping photos during my social distancing walks. Follow the photo-stream here.