Branding, marketing, and everything that goes along with promoting yourself and your company is not the big scary monster you think it is. It's actually quite approachable. Branding plays an important role in how clients and customers experience you as a company.
Recently, I sat down with Naomi, our Marketing Manager, alongside Illiah Manger, the founder of C&V Creative, and Meryl Simmons, the founder of Blossom Solutions. Our goal was to really discuss and take apart all the things that come up when talking about a company's branding and marketing. This was part of a presentation for the cohorts of the Maryland Energy Innovation Accelerator. You can watch the presentation here and read below for the recap.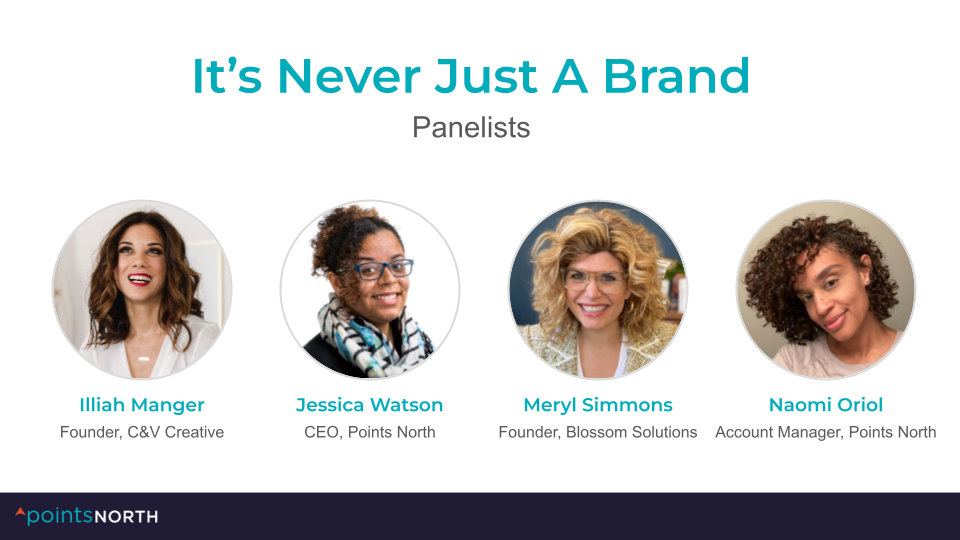 What is the difference between a logo and a brand? Why are they important?
"The logo is just a small part of a brand. It's one of the building blocks." – Illiah Manger, the founder of C&V Creative
"Branding isn't tangible." – Meryl Simmons, the founder of Blossom Solutions
Branding allows for companies to connect with their audience and build that customer loyalty. We get exposed to new brands and products every day, multiple times a day. Branding helps you stand out. It's how your audience relates to your brand and why they want to be a part of it. Your brand impacts your external customers who use your products, but also your internal team who want to be a part of your company.
"Branding gives you control over how people perceive your business and who you are." – Naomi, Marketing Manager of Points North.
What is the most important question to ask your client when you're planning a branding project?
These questions will help you start to discover some important things about your client and their brand, and hopefully get you both on the same page before beginning this journey together.
What result do you want from this branding project?
How do you want your customers to feel when they're interacting with your brand?
If your company were a person in a bar, who would that person be? Can you describe them as a character? What are their personality traits?
What would the room feel like in your house if your brand was in it?
A company should start thinking about their brand at the beginning, and it will evolve as the company grows and receives feedback. It should be living and breathing. It shouldn't limit you, it should grow and expand. Make sure to have your creative partner design with the understanding of where your company is headed.
"It's about connecting with your audience, what resonates with them? Use that as you are building the pillars of your brand." – Meryl Simmons
From an investor perspective, when you have a strong visual identity and a strong brand, that's a signal to investors that you care about those important details.
"Having a strong brand can be a key indicator of who you are as a business leader and how you operate." – Jessica Watson
What is an audience persona?
The audience persona (or customer profile) is who your brand is speaking too. You can't be everything to everyone. Take the time to define who your ideal customer is, even though it's not always easy to do.
Once you start engaging with the market, and start getting feedback (including real market data), you should be able to determine
Who is most likely to buy from you?
Why are they most likely to buy from you?
What do they have in common?
What's their demographic?
What's important to them?
How does that align with the solution or offering of your business?
What you create should resonate with that group. You can have more than one persona, but each persona has different drivers and motivators. Knowing this will help you speak to each audience in a targeted way (pro tip – what your audience wants from you can change over time, you have to maintain your relevance).
What do you think are the common misconceptions that people have about branding?
"There's nothing more to the brand than the logo." – Illiah Manger
Brands evolve, the work keeps going, and it should grow as your business grows. You want your brand to evoke a feeling, and stand for something more than a physical product.
What old-school branding techniques are coming back?
Including a personal touch goes a long way, like handwritten "thank you" notes.
"A tech enabled ecosystem can always cater to your various personas, but access to human touch-point goes a long way." – Meryl Simmons
Personal touch points and thoughtful proactive communications speak to your integrity as a leader and as a business.
What's one piece of practical advice for someone approaching branding for the first time?
"Keep it super simple." – Illiah Manger

"Remain consistent." – Meryl Simmons

"Don't try to please everyone, you're never going to." – Naomi Oriol

"Your brand does not need to be so literal or overly detailed. Keep it simple" – Jessica Watson
Developing a unique brand that resonates with customers and sets you apart from the competition is essential for business growth. With the right branding strategy, you can create a strong, recognizable identity that helps you stand out in the marketplace and create loyal customers.
_____
References
Illiah Manger, Founder of C&V Creative
Illiah is a brand designer helping visionary business owners create more income and impact with brand identities that amplifies their message and elevates their business. She combines creativity, compassion, and an obsession with details to build brand identities that drive business results.
Meryl is an executive, with almost two decades of experience in customer facing, and commercial leadership roles, where she's strategically led, coached, and helped hyper growth companies with end-to-end go-to market planning and execution. She is a master in building high performance sales engines, optimizing sales process, and enabling commercial teams to win.
Naomi Oriol, Marketing Manager at Points North
Naomi Oriol is a customer experience professional who specializes in crafting compelling stories through website and blog writing. With over 15 years of experience in the industry, she has become an expert in understanding customer needs and delivering exceptional customer experiences.
More About the Maryland Energy Innovation Accelerator (MEIA)
MEIA focuses on early-stage technology commercialization in partnership with Maryland-based businesses, universities and labs to support Maryland's Clean Energy and Climate Goals. MEIA supports solar, wind, batteries, energy efficiency, grid modernization, carbon capture utilization and storage (CCUS), and any other technology that reduces greenhouse gas emissions or provides negative emissions benefits in the electric, oil and gas, residential, commercial or industrial sectors.